By the time you read this letter, we will be well on our way into 2013. The Speech Therapist & Audiologist has projected inspiring and exciting campaigns, with this very first edition of our newsletter being one of them!
 NEWS UPDATES
There are now more avenues should you simply require further information or wish to interact with The Speech Therapist & Audiologist by visiting our NEW WEBSITE at: www.speechaudio.co.za.
Follow our news feeds on twitter @aishacasoojee or Like our Facebook page www.facebook.com/acasoojee
OFFICE SPACE
Hours
Our rooms are open Monday to Friday, 12h00 to 17h00 and Saturdays 8h00 to 13h00. Please call 0116801418 / 0713592575 to schedule appointments.

Therapy Rooms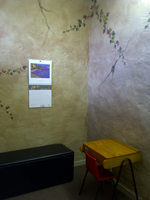 The speech therapy room has been "metamorphosised". We now have a tranquil "Tuscan style" setting leading into an outdoor therapy area as well. Taking advantage of the blissful summer days, needless to say that most of the kids have been having an outdoor summer speech therapy blast!

Neighbourhood
We bid farewell to the restaurant next door which is currently being transformed into the Southern Suburbs Medical Centre. A sneak preview highlights a mini coffee shop!!! Mums and dads, you will soon be able to grab a cuppa whilst waiting for your little ones during Speech therapy.
BATTERY SALES
The Speech Therapist & Audiologist stocks all sized hearing aid batteries.
Should you wish to purchase batteries, pop in to our rooms or email info@speechaudio.co.za for price information.
ACTIVITIES FOR 2013
The Speech Therapist & Audiologist conducted an information sharing session on the Importance of Identifying a Hearing Loss. The talk was hosted on the 23 January 2013 at the Crown Gardens Recreation Centre and was well received by a cross-cultural group of senior citizens. This invitation was extended to The Speech Therapist & Audiologist by the Southern Suburbs Muslim Women's Forum.
3rd March is International Ear Care Day. This year, the theme of the day is Healthy Hearing, Happy Life – Hearing Health Care for Ageing People.The Speech Therapist & Audiologist will be hosting a campaign to raise awareness regarding ear and hearing care, hearing loss and use of hearing aids. The programme will be finalised closer to the date, however a tentative mid-morning presentation will be followed by a hearing screening camp (50+ years old only) for the detection of hearing loss.
Early detection and intervention remains the topic at heart! The Speech Therapist & Audiologist plans to conduct school screening camps in order to identify speech-language and hearing disorders amongst Grade Rs and Grade 1s. Furthermore, informational flyers will be disseminated amongst the parents / caregivers of these children. Do contact me should you like me to propose the screening campaign at your little ones school.The 2013 early intervention screening campaign will kick off at the Smiley Kids Naturena Pre-Primary School on 12 February 2013. Thank you to Smiley Kids Naturena Pre-Primary School for providing me an opportunity to be a part of "the difference".
Watch this space for an update on events and campaigns. You are most welcome to send in your comments, questions, suggestions and stories for our newsletter to info@speechaudio.co.za or 0862670644.
MIND OVER MATTER…
The Speech Therapist & Audiologist would like you to send in a suggested NAME/TITLE for the newsletter. The chosen name will earn its entrant a free hearing assessment and a complimentary goodies pack.
Deadline: 15 March 2013
Rules: Anyone over 16 years old may enter!!!
Submission: Entries are to be emailed to aisha@speechaudio.co.za or inbox the Speech Therapist & Audiologist on www.facebook.com/acasoojee
HUMOUR
Warmest regards … Aisha Casoojee